February 19, 2020 — 5.48pm
Olympic champion Nova Peris has condemned the threat to slash Hockeyroos funding on the eve of the Tokyo Games as a disgrace.
A member of the gold medal-winning Hockeyroos at the 1996 Olympics - and a Commonwealth Games gold medal-winning sprinter - Peris said the timing of the funding discussion months out from the Games was disgusting.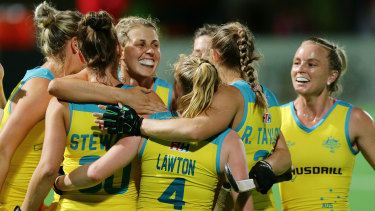 The former senator said the timing added to the burden the athletes would carry going into the Tokyo Olympics.
She said the Australian hockey stars were already carrying the pressure to win a medal given they are a top-ranked team in the world. Now they have the added pressure that if they do not win a medal they would be responsible for their sport losing funding.
"It's a disgrace," Peris said.
"To be talking about this sort of funding now four to five months out from the Olympics is not good preparation for the athletes and is very disappointing."
Funding for the Hockeyroos could be cut by 60 per cent because an analysis considers them unlikely to be on the podium at the 2024 Olympics.
"My understanding is they say they have not medalled since the Sydney Olympics so they don't get funding but it is hard enough to make a final let alone win a medal," Peris said.
"It's not an easy feat to win an Olympic medal. It's a double-edged sword, now they have the added pressure not only to win a medal but they know if they don't the funding will be cut.
"They are carrying enough of a burden without this. If they don't come back with the goods their funding will be cut in half. It's disgusting.
"They are saying they don't trust Australian athletes to rise to the challenge in competition. They decide years out whether they think they are good enough to win a medal."
She said the sports were the innocent victims of a personality power play between John Coates and John Wylie.
She said under the current funding system she would not have been back in at the Commonwealth Games in Kuala Lumpur where she was a member of the relay team but only late got a chance to run the 200m individual sprint, an event she went on to win gold in.